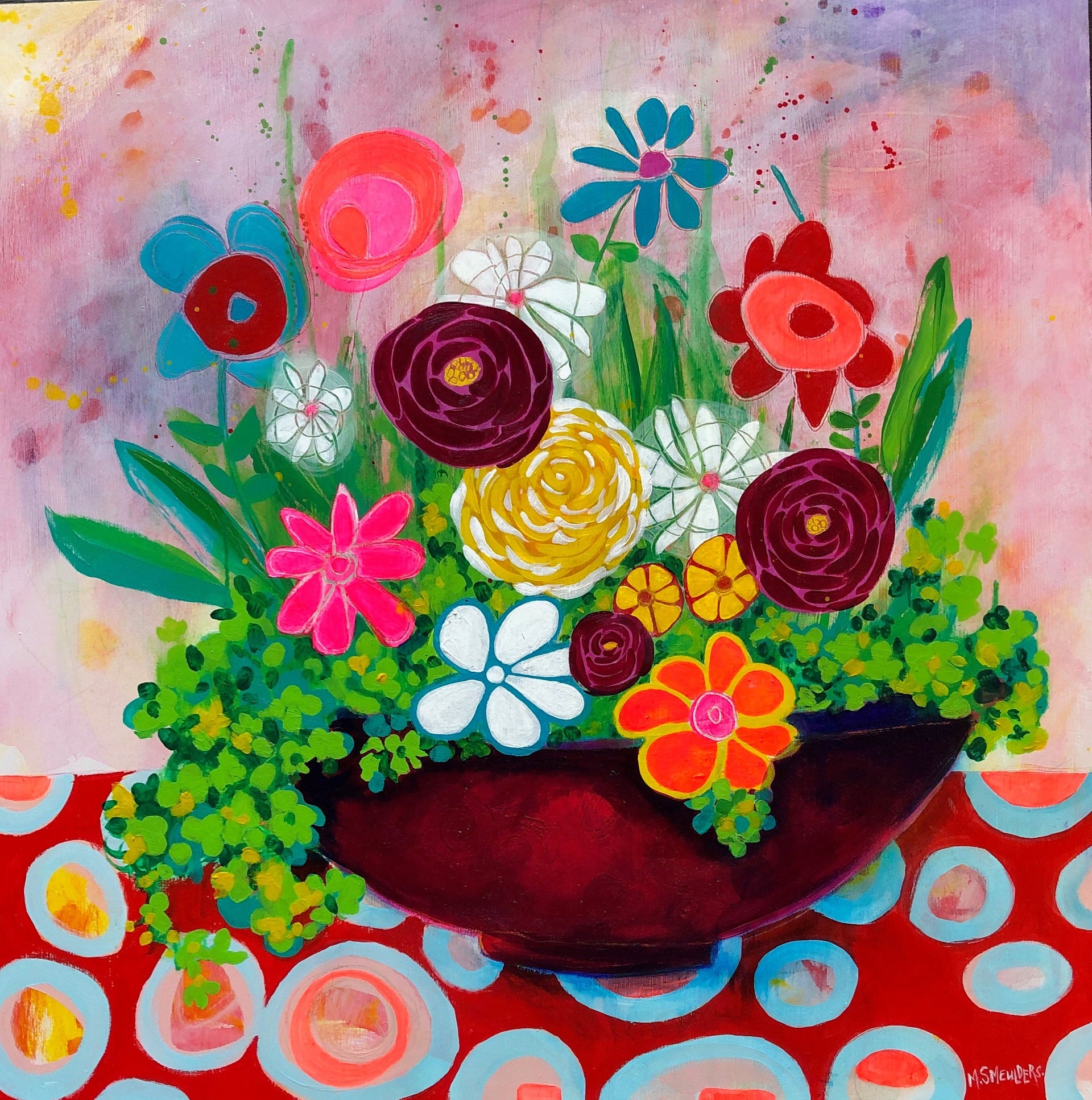 Michele Smeulders
Artist Statement
 "I see the world around me through my own pair of spectacularly goofy glasses. My mission is to accentuate the positive and always resist the usual. My paintings are places and objects I have created from my imagination, and they are my attempt to simplify our complex world. Creating them brings joy to my life. Sharing them is my way of offering joy to others.
My canvas is my place for me to play, explore, and free myself of the confines of reality. And, as I title my pieces I make light of my kooky world, merely as an attempt to invite the viewer in to visit and spend time borrowing my glasses, which, by the way, are heart-shaped and rose-coloured.
 Art Education and Career 
 After receiving a Diploma in Fashion Design at Fanshawe College (London, Ontario) and working as a display artist for a large department store I studied Fine Art at the University of Guelph in Ontario, Canada. Before I could graduate, life took a couple of turns and I had the opportunity to live and continue my studies in Illinois, and finish in California. While living in San Jose, California for 20 years, I taught art to grades K-5, worked as the head set designer for a performing arts middle school, worked as a faux artisan contractor and also offered private art lessons and fabric sculpture classes to children and adults. After graduating from The Art Institute of Silicon Valley with an Associates Degree in Graphic Design I worked as a freelancer graphic designer before returning to Canada. Now settled in Strathroy, Ontario I continue to paint and experiment with mixed media, offer pet and house portraits by commission, and in October 2023 I will open my home studio for art classes and group paint parties.
It is a great honor to be represented by Taren White Gallery (Paris, Ontario) and now the brand new and very beautiful Maud Gallery in Edmonton, Alberta.